تو شاہيں ہے پرواز ہے کام تيرا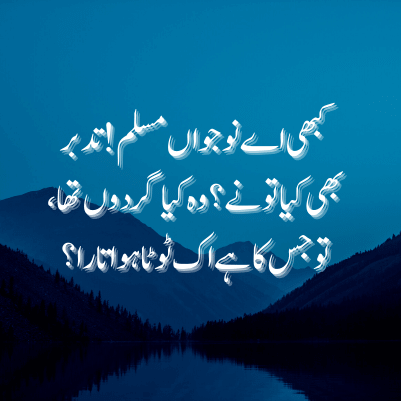 Today, the 9th of November we commemorate Allama Muhammad Iqbal, the poet, the philosopher, the leader, the visionary. We can do justice to his memory only if we imbibe and act upon the message he persistently directed to the youth:
"The necessity for constant struggle for excellence in all fields of life".
Some verses from his famous writing, 'Bal e Jibraeel' quoted below are only a glimpse of that message for the relentless struggle for truthfulness and excellence:
ستاروں سے آگے جہاں اور بھی ہيں
ابھی عشق کے امتحاں اور بھی ہيں
تہی ، زندگی سے نہيں يہ فضائيں
يہاں سينکڑوں کارواں اور بھی ہيں

قناعت نہ کر عالم رنگ و بو پر
چمن اور بھی آشياں اور بھی ہيں

اگر کھو گيا اک نشيمن تو کيا غم
مقامات آہ و فغاں اور بھی ہيں

تو شاہيں ہے ، پرواز ہے کام تيرا
ترے سامنے آسماں اور بھی ہيں
اسی روز و شب ميں الجھ کر نہ رہ جا
کہ تيرے زمان و مکاں اور بھی ہيں

The great poet's life mirrors what he preached. Hailing from the then small town of Sialkot he went on to achieve the highest academic levels of Ph.D in Philosophy from Germany which was at the time the center of innovations and breakthroughs in knowledge. This journey in pursuit of excellence brought him back to his native land where he put all his energies in urging the next generations to rise above themselves and discover their true potential as human beings.
It is upto us to respond to his calling, look within ourselves and endeavour our utmost to become the 'Shaheens' that Allama Muhammad Iqbal epitomised as a symbol for achieving excellence in all fields of life.
It is the effort that counts:
تو شاہيں ہے پرواز ہے کام تيرا